Member Marketplace
PUTTING CHAMBER MEMBERS FIRST
The "Member Marketplace" is dedicated to our nearly 1,000 chamber members, keeping them informed of special discounts, events, opportunities, and programs happening in the Branson/Lakes Area. Whether you're looking for a great deal or a way to get more involved, one of our partners is sure to have the perfect opportunity for you! If you would like to submit your news, deal, or event, just click the button below.
Elevate Work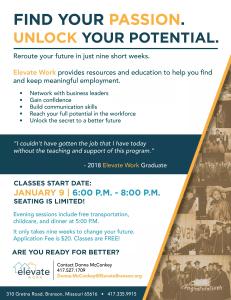 Elevate Work students discover the importance and dignity of work. They learn communication and problem-solving skills, gain confidence for interviews, create a resume, and better understand what employers need and want in their best employees. It connects the unemployed and underserved population of our community with the necessary tools to uncover and overcome the obstacles which are keeping them from finding and keeping a job they enjoy.
If you know anyone who would benefit from our class please share our flyer or have them contact me directly! The January class (during most layoffs) is a perfect time to better yourself! Send your laid off employees to gain employment skills!
Ollis/Akers/Arney: Branson Public Schools Earns Safety Dividend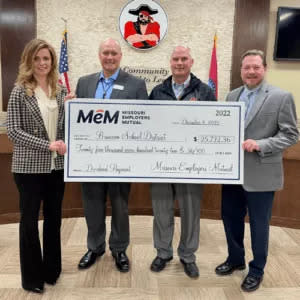 Ollis/Akers/Arney Insurance & Business Advisors presented Branson Public Schools a $25,722 insurance safety dividend check on December 8, 2022. The dividend, earned through safety protocols, is a result in claims that were lower than expected during the 2021 policy period. To earn the cash dividend, Branson Public School officials worked with their Ollis/Akers/Arney Insurance and Business Advisors team to ensure district loss control programs are in place and properly documented in a timely fashion with Missouri Employer's Mutual Insurance Company (MEM).
Image from l to r: Ashlae Cook, Ollis/Akers/Arney senior commercial account manager; Dr. Nate Moore, Branson Public Schools assistant superintendent; Dr. Chip Arnette, Branson Public Schools executive director of operations and safety; and John Akers, Ollis/Akers/Arney vice president of benefits.
Taneyhills Community Library
Taneyhills Library is a privately operated library, supported through donations, grants, and the operations of a thrift store and used book store. The newly appointed Taney County Library Board plans to introduce a ballot vote in 2023 for voters to decide if the library should be tax-supported. They are seeking public input as they work towards this goal. Please take a few moments to complete this community survey to assist them in planning for the future. http://www.thlibrary.org